Citroen Ë-C3 was launched last year, and just a few months later the french automaker came with an electrified version. Many have been waiting for a compact electric vehicle that will take care of their city hustles much more affordably than their gas-powered counterparts. Firstly, the Citroen Ë-C3 is called a hatchback by the manufacturer which is genuinely surprising, when every other automaker is trying to call everything an SUV these days (even the Ignis became an SUV).
Tata Tiago EV will come head-to-head with the new Citroen Ë-C3 when it comes to the price of both EVs. However, both EVs have different approaches to body styles. The Citroen C3 was a budget offering from the brand even though the styling was on point with recent times.
Now the same Citroen C3 is battery-powered with no major exterior or interior design changes. The New Citroen Ë-C3 has new Ë-C3 badges and one extra opening lid. The fuel-filling lid is kept just like on the ICE-powered counterpart but as an unnecessary dummy. Talking about the competition, the Citreon Ë-C3 has just one electric vehicle competitor- Tata Tiago EV. Citroen Ë-C3 is larger in every dimension compared to Tata Tiago EV, in fact, Citroen has the longest wheelbase in the segment.
Battery, Motor and Charging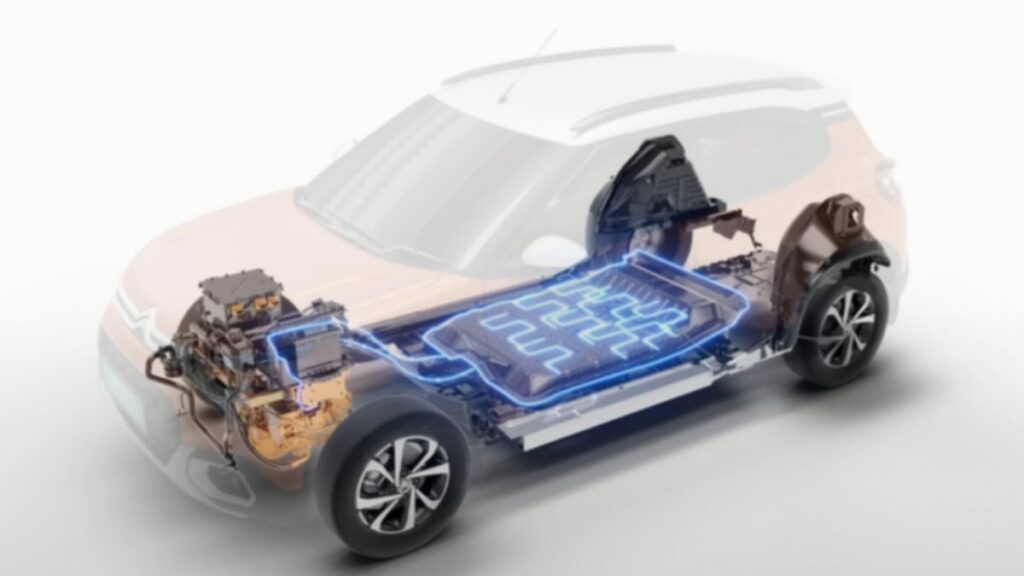 The battery of the Citreon Ë-C3 is placed neatly under the floor while Tata Taigo's battery pack eats into boot space, resulting in no spare wheel in the boot. Citroen Ë-C3 has a 29.2kWh larger battery pack compared to Tata Tiago EV benefitted from the larger wheelbase. Even with 29NM of more torque, the Citroen Ë-C3 still falls behind in a 0-60 KM run due to its heavier profile. Are you curious about the full details? well don't you worry here is a detailed table for you.
| | | | |
| --- | --- | --- | --- |
| Model | Citreon E-C3 | Tata Tiago Medium Range EV | Tata Tiago Long Range EV |
| Power | 57 PS | 61 PS | 75 PS |
| Torque | 143 NM | 110 NM | 114 NM |
| Battery Capacity | 29.2 kWh | 19.2 kWh | 24 kWh |
| Claimed Range | 320 KM | 250 KM | 315 KM |
| Claimed 0-60 Kph | 6.8 sec | 6.2 sec | 5.7 sec |
| 15W Wall Charger | 10 hr and 30 min | 6 hr and 54 min | 8 hr and 40 min |
| DC Fast Charging | 57 min | 57 min | 57 min |
| Top Speed | 107 KPH | 120 KPH | 120 KPH |
Citroen E-c3 vs Tata Tiago comparison table
Citroen Ë-C3 claims their new battery tech allows it to be charged solely with a fast charger, with no damage to the battery life. They are very confident with the latest battery tech which is not even a water-cooled package. Just like the range, charging time is also very important in an Electric Vehicle. A DC fast charger will charge all three from 10-80% in just 57 minutes even though there are differences in the battery sizes. Unfortunately, The Citroen Ë-C3 will take 2 hours more with the home wall-mounted AC chargers.
Verdict
Despite the Citroen having a larger tenfotaintment (10-inch infotainment) the Citroen lacks many creature comforts from the beginning. With the new eC3 many of these are not addressed, like the manual adjustment of ORVMS, the tiny digital instrument cluster, the omission of automatic climate control, etc.
Meanwhile, Tata Tiago EV provides much more premium interiors and features. Citroen eC3 has an imposing SUV styling and much more cabin space in general compared to Tata Tiago EV. tiago more showroom…. However, this is not a comparison drive so from the specification alone we feel that the Tata Tiago has a more well-rounded package. The Ex-showroom prices of Citroen Ë-C3 are Rs 11.50- 12.43 lakhs and Rs 8.69 – 11.99 lakhs for the Tata Tiago EV.
Watch our Youtube video on Citroen Ë-C3 vs Tata Tiago EV-
Follow us on Instagram. CLICK HERE.
Subscribe to our Youtube channel. CLICK HERE.